9ers Tee Ball Camp 
Under the direction of 9ers Baseball Club Youth Coordinator Diego Espinosa, players will be given the instructions of basic baseball. Campers will learn throwing, catching, hitting, and base running with fun instructional skill development games for the younger athlete. The approach to the basics will be constructive but also fun for all players!
Spotlight on Coach Espinosa
Experienced Baseball Coach with a demonstrated history of working in the health wellness and fitness industry. Very well known within a strong baseball community throughout the entire Jersey Shore. Skilled in Customer Service, Coaching, Public Speaking, Social Media, and Spanish.
Ages: 4 – 6yrs
Dates: Aug. 3 – 6
Time: 8 am – 12 pm
Cost: $210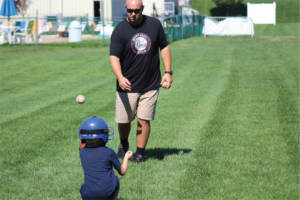 9ers Baseball Camp 
Staffed by College coaches & the 9ers Baseball Organization Coaches- this camp offers the very best in all facets of baseball. A highly instructional camp where players are broken down by age and ability for maximum advancement of their skills.
Ages: 7 – 14yrs
Dates: Aug. 3 – 6
Time: 8 am – 12 pm
Cost: $210